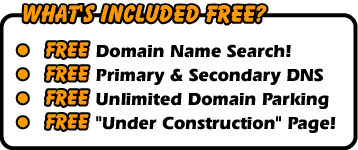 When you register a domain name with us, these FREE services are available to you at no additional charge. Most registrars or ISP's charge US$50 or more for these services on top of the domain registration fee, but at DollarDomainName.com these are always free. There are no hidden charges. No gimmicks. No tricks. No surprises.
FREE Domain Name Search lets you obtain information about a domain name owner, look up your competitors and check if a domain is available!
FREE Primary & Secondary DNS allows you to register for many domain names without having it route to your existing ISP, which may cost you money and inconvenience when you switch providers!
FREE Domain Parking means you can place your domain(s) on our servers free, reserving them for later use!
FREE under Construction Page gives you an immediate web presence while you build your web site!
PRICING
TERM (YEARS)
YEARLY FEE (USD)
1
$19.95
2+
$17.95
5+
$15.95
9 OR 10
$14.95
MINIUM YEARLY FEES FOR TLDs
TLD
MIN YEARLY FEE (USD)
COM
$14.95
NET
$15.95
ORG
$17.95
BIZ
$17.50
INFO
$19.95
TV
$50
In addition to all these great features, our price is one of the cheapest (if not THE CHEAPEST) in the world today because we register thousands of domain names a month and we pass on volume discounts to you!